OVERVIEW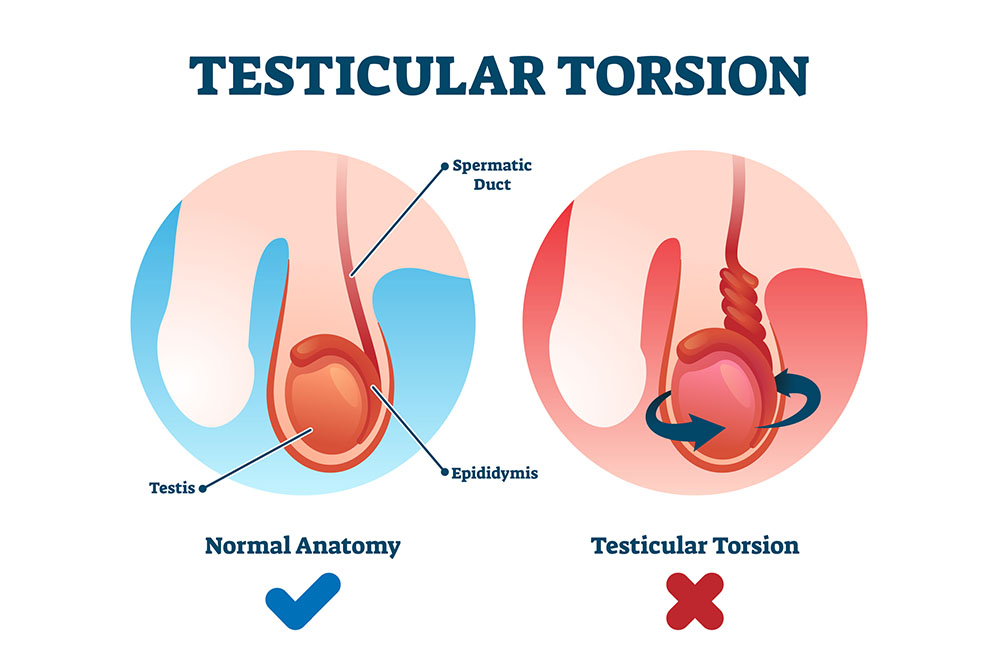 Testicular torsion occurs when a testicle rotates, twisting the spermatic cord that brings blood to the scrotum. The reduced blood flow causes sudden and often severe pain and swelling. Testicular torsion is most common between ages 12 and 18, but it can occur at any age, even before birth.
Testicular torsion usually requires emergency surgery. If treated quickly, the testicle can usually be saved. But when blood flow has been cut off for too long, a testicle might become so badly damaged that it has to be removed.
WHAT IS TESTICULAR TOSION?
Testicular torsion is the twisting of the spermatic cord, which supports the testes in the scrotum. When this occurs, blood supply is cut off to the testicles and nearby tissue in the scrotum.
WHAT ARE THE LIKELY CAUSES?
Some men are more prone to this condition because of defects in the connective tissue within the scrotum. The problem may also occur after an injury to the scrotum that results in a lot of swelling, or following heavy exercise. In some cases, there is no clear cause.
The condition is more common during the first year of life and at the beginning of adolescence (puberty). However, it may happen in older men. Rapid growth of the testicles during puberty may also cause the condition.
WHAT ARE THE SIGNS AND SYMPTOMS?
Signs and symptoms of testicular torsion include:
Sudden, severe pain in the scrotum — the loose bag of skin under your penis that contains the testicles
Swelling of the scrotum
Abdominal pain
Nausea and vomiting
A testicle that's positioned higher than normal or at an unusual angle
Frequent urination
Fever
Young boys who have testicular torsion typically wake up due to scrotal pain in the middle of the night or early in the morning.
WHAT ARE THE RISK FACTORS?
The risk factors includes;
Age. Testicular torsion is most common between ages 12 and 18.
Previous testicular torsion. If you've had testicular pain that went away without treatment (intermittent torsion and detorsion), it's likely to occur again. The more frequent the bouts of pain, the higher the risk of testicular damage.
Family history of testicular torsion. The condition can run in families.
WHAT ARE THE COMPLICATIONS?
Testicular torsion can cause the following complications:
Damage to or death of the testicle. When testicular torsion is not treated for several hours, blocked blood flow can cause permanent damage to the testicle. If the testicle is badly damaged, it has to be surgically removed.
Inability to father children. In some cases, damage or loss of a testicle affects a man's ability to father children.
WHAT ARE THE PREVENTIONS?
Having testicles that can rotate in the scrotum is a trait inherited by some males. If you have this trait, the only way to prevent testicular torsion is surgery to attach both testicles to the inside of the scrotum. You can also avoid injury to the scrotum.
HOW DO WE DIAGNOSE TESTICULAR TORSION IN OUR FACILITY?
Tests that can be used to diagnose torsion include:
During a physical exam, we will check your scrotum for swelling. We may also pinch the inside of your thigh. Normally this causes the testicles to contract. However, this reflex may disappear if you have torsion.
You might also receive an ultrasound of your scrotum. This shows blood flow to the testicles. If blood flow is lower than normal, you may be experiencing torsion.
WHAT ARE TREATMENT OPTIONS IN OUR FACILTY?
Surgical repair, or orchiopexy, is usually required to treat testicular torsion. In rare cases, your doctor may be able to untwist the spermatic cord by hand. This procedure is called "manual detorsion."
Surgery is performed as quickly as possible to restore blood flow to the testicles. If blood flow is cut off for more than six hours, testicular tissue can die. The affected testicle would then need to be removed.
Surgical detorsion is performed under general anesthesia. You'll be asleep and unaware of the procedure.
We will make a small incision in your scrotum and untwist the cord. Tiny sutures will be used to keep the testicle in place in the scrotum. This prevents rotation from occurring again. The surgeon then closes the incision with stitches.
HOW SOON WILL I FEEL BETTER AFTER TESTICULAR SURGERY?
The first few days after testicular torsion surgery are often the most painful. There may be swelling or bruising on your scrotum or groin for about a week.
After a week, your pain should decrease, and you should be able to return to normal activities, including work or school.
You should avoid heavy lifting and strenuous activities (including sports) for at least three to four weeks. Talk to your healthcare provider before resuming any activity.
It's important to remember that your body is unique. Your recovery time may vary. Follow your healthcare provider's instructions on how to manage any pain or discomfort as you recover from testicular torsion surgery.
TESTICULAR TORSION IN NEWBORN AND INFANT
Testicular torsion can occur in newborns and infants, though it's rare. The infant's testicle might be hard, swollen or a darker color. Ultrasound might not detect reduced blood flow to the infant's scrotum, so surgery might be needed to confirm testicular torsion.
Treatment for testicular torsion in infants is controversial. If a boy is born with signs and symptoms of testicular torsion, it might be too late for emergency surgery to help and there are risks associated with general anesthesia. But emergency surgery can sometimes save all or part of the testicle and can prevent torsion in the other testicle. Treating testicular torsion in infants might prevent future problems with male hormone production and fertility.
WHEN TO CONTACT A MEDICAL PROFESSIONAL?
Get emergency medical attention if you have symptoms of testicular torsion as soon as possible. It is better to go to an emergency room instead of an urgent care in case you need to have surgery right away.