SWOLLEN LYMPH NODES
OVERVIEW
Swollen lymph nodes usually occur as a result of infection from bacteria or viruses. Rarely, swollen lymph nodes are caused by cancer.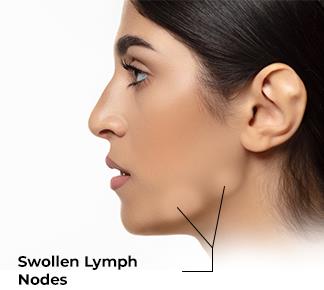 Your lymph nodes, also called lymph glands, play a vital role in your body's ability to fight off infections. They function as filters, trapping viruses, bacteria and other causes of illnesses before they can infect other parts of your body. Common areas where you might notice swollen lymph nodes include your neck, under your chin, in your armpits and in your groin.
WHAT ARE SWOLLEN LYMPH NODES?
Swollen lymph nodes are your body's natural reaction to illness or infection. These small lumps are soft, tender and often painful. The most common cause of swollen lymph nodes is an upper respiratory infection, but they can have many causes. If they're enlarged with no obvious cause, see your healthcare provider to rule out something more serious.
When you're not feeling so great, like when you're coming down with something, you may notice some swelling on the sides of your neck. Those lumps probably feel soft and tender to the touch and may even hurt a little. Those bumps on your neck are swollen lymph nodes. The medical terms for swollen lymph nodes are adenopathy or lymphadenopathy.
Lymphadenopathy is common and actually a good thing. The swelling in these pea- or bean-sized lymph nodes are one of your body's natural reactions to illness or infection. Swollen lymph nodes mean your body's immune system is working to clear away infection and/or invading viruses or bacteria.
Many people call them swollen glands even though they're really not glands, but part of your lymphatic system.
WHAT ARE THE SYMPTOMS OF SWOLLEN LYMPH NODES?
The symptoms that may be present along with swollen lymph nodes are:
Swollen lymph nodes in the groin may cause pain when walking or bending.
WHAT CAUSES SWOLLEN LYMPH NODES?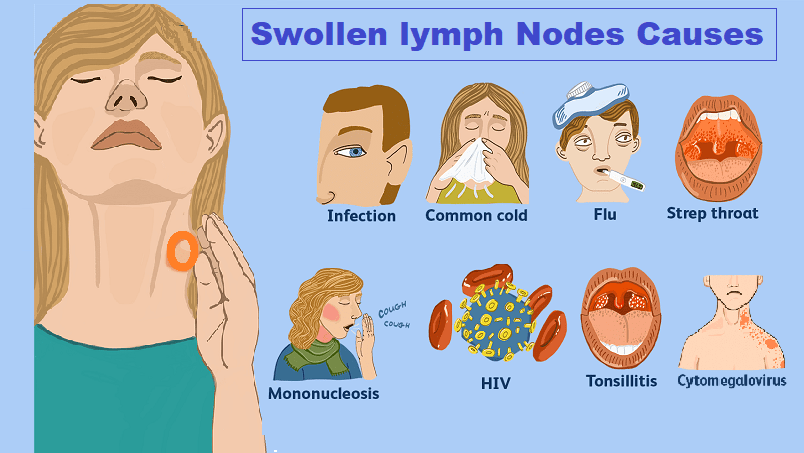 The most common cause of swollen lymph nodes is an infection, particularly a viral infection, such as the common cold. Other possible causes of swollen lymph nodes include:
Common infections
Strep throat
Measles
Ear infections
Infected (abscessed) tooth
Mononucleosis
Skin or wound infections, such as cellulitis
Human immunodeficiency virus (HIV) — the virus that causes AIDS
Uncommon infections
Tuberculosis
Certain sexually transmitted infections, such as syphilis
Toxoplasmosis — a parasitic infection resulting from contact with the feces of an infected cat or eating undercooked meat
Cat scratch fever — a bacterial infection from a cat scratch or bite
Immune system disorders
Lupus — a chronic inflammatory disease that targets your joints, skin, kidneys, blood cells, heart and lungs
Rheumatoid arthritis — a chronic inflammatory disease targeting the tissue that lines your joints (synovium)
Cancers
Lymphoma — cancer that originates in your lymphatic system
Leukemia — cancer of your body's blood-forming tissue, including your bone marrow and lymphatic system
Other cancers that have spread (metastasized) to lymph nodes
Other possible but rare causes include certain medications, such as the anti-seizure medication phenytoin (Dilantin) and preventive medications for malaria.
WHAT ARE THE COMPLICATIONS?
If infection is the cause of your swollen lymph nodes and isn't treated, an abscess may form. Abscesses are localized collections of pus caused by infections. Pus contains fluid, white blood cells, dead tissue, and bacteria or other invaders. An abscess may require drainage and antibiotic treatment.
HOW DO WE DIAGNOSE SWOLLEN LYMPH NODES IN OUR FACILITY?
To diagnose what might be causing your swollen lymph nodes, we may need:
Your medical history. We will want to know when and how your swollen lymph nodes developed and if you have any other signs or symptoms.
A physical exam. We will also want to check lymph nodes near the surface of your skin for size, tenderness, warmth and texture. The site of your swollen lymph nodes and your other signs and symptoms will offer clues to the underlying cause.
Blood tests. Certain blood tests may help confirm or exclude any suspected underlying conditions. The specific tests will depend on the suspected cause, but most likely will include a complete blood count (CBC). This test helps evaluate your overall health and detect a range of disorders, including infections and leukemia.
Imaging studies. A chest X-ray or computerized tomography (CT) scan of the affected area may help determine potential sources of infection or find tumors.
Lymph node biopsy. We may have you undergo a biopsy to secure the diagnosis. He or she will remove a sample from a lymph node or even an entire lymph node for microscopic examination.
WHAT ARE THE TREATMENT OPTIONS?
Lymph node swelling will usually disappear once the infection clears. The swelling may also go away when the person takes prescribed medications, such as antibiotics or antivirals.
Doctors may prescribe anti-inflammatory medication if a person has tissue swelling. If an underlying medical condition is responsible for the lymph nodes swelling, treating this condition should reduce the swelling.
Common home remedies to treat the symptoms of swollen lymph nodes include:
taking over-the-counter pain medicines, such as acetaminophen or ibuprofen
applying a warm wet compress to the affected area
drinking plenty of fluids, such as water and fresh juices
resting to help the body recover from the illness.
HOW CAN SWOLLEN LYMPH NODES BE PREVENTED?
You wouldn't want to prevent swollen lymph nodes. They're a sign that your body is fighting an infection or illness. If you hate the discomfort of having swollen lymph nodes, your best bet is to take extra steps to keep from catching common viruses through the following:
Proper handwashing.
Avoid touching your eyes and nose.
Staying away from people who are sick.
Disinfect surfaces in your home or workspace.
Getting enough sleep, eating healthy and exercising.
Swollen lymph nodes are usually a symptom of another condition, such as an infection, and they tend to resolve on their own within several weeks.
It is best to consult a doctor if swollen lymph nodes persist for longer than 3 weeks or occur alongside other symptoms, such as high fever, abdominal pain, or night sweats. The cause of the swelling will determine the treatment.