WHAT IS A PENETRATING ABDOMINAL TRAUMA?
Penetrating trauma is an open wound injury that occurs when an object pierces the skin and enters a tissue of the body, creating a deep but relatively narrow entry wound. In contrast, a blunt or non-penetrating trauma may have some deep damage, but the overlying skin is not necessarily broken and the wound is still closed to the outside environment. The penetrating object may remain in the tissues, come back out the path it entered, or pass through the full thickness of the tissues and exit from another area.
A penetrating injury in which an object enters the body or a structure and passes all the way through an exit wound is called a perforating trauma, while the term penetrating trauma implies that the object does not perforate wholly through.
TYPICAL IMAGE OF A PENETRATED ABDOMINAL INJURY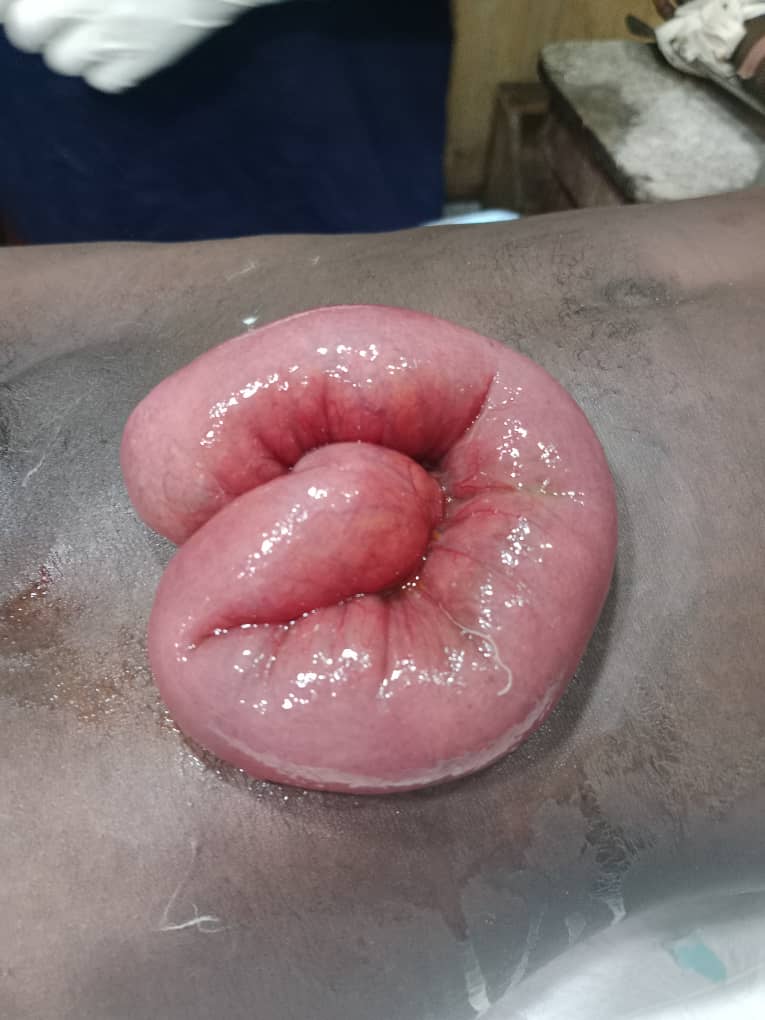 WHAT ARE THE SIGNS AND SYMPTOMS?
Signs and symptoms of a penetrating abdominal trauma might include;
Expulsion of the intestines
Profuse bleeding
Pains at the abdominal region
Bruising of the external abdomen
WHAT ARE THE CAUSES?
The most common causes of abdominal injury include;
Gunshots
Being stabbed by knife
Trips, slips and falls on sharp objects
Road traffic accident
PATHOPHYSIOLOGY
Abdominal trauma can be life-threatening because abdominal organs, especially those in the retroperitoneal space, can bleed profusely, and the space can hold a great deal of blood. Solid abdominal organs, such as the liver and kidneys, bleed profusely when cut or torn. Injury on Hollow organs such as the stomach might present a serious risk of infection, especially if such injury is not treated promptly.
WHAT ARE THE COMPLICATIONS?
Complications of abdominal injury may include blood loss and infection and untimely death.
WHAT ARE THE DIAGNOSIS?
Diagnostic techniques used include CT scanning, ultrasound, and X-ray. X-ray can help determine the path of a penetrating object and locate any foreign matter left in the wound, but may not be helpful in blunt trauma. Diagnostic laparoscopy or exploratory laparotomy may also be performed if other diagnostic methods do not yield conclusive results.
ULTRASOUND
Ultrasound can detect fluid such as blood or gastrointestinal contents in the abdominal cavity, and it is a non-invasive procedure and relatively safe. CT scanning is the preferred technique for people who are not at immediate risk of shock, but since ultrasound can be performed right in an emergency room, the latter is recommended for people who are not stable enough to move to CT scanning. A normal ultrasound does not rule out all injuries.
CT SCANNING
People with abdominal trauma frequently need CT scans for other trauma (for example, head or chest CT) in these cases abdominal CT can be performed at the same time without wasting time in patient care.
CT is able to detect 76% of hollow viscous injuries so people who have negative scans are often observed and rechecked if they deteriorate. However, CT has been demonstrated to be useful in screening people with certain forms of abdominal trauma in order to avoid unnecessary laparotomies, which can significantly increase the cost and length of hospitalizations.
WHAT ARE THE TREATMENT?
Abdominal trauma requires urgent medical attention and sometimes requires hospitalization. The initial treatment involves stabilizing the person enough to ensure adequate airway, breathing, and circulation, and identifying other injuries. Surgery may be needed to repair injured organs. Surgical exploration may be necessary for people with penetrating injuries and signs of peritonitis or shock. Laparotomy is often performed in blunt abdominal trauma, and is urgently required if an abdominal injury causes a large, potentially deadly bleed. The main goal is to stop any sources of bleeding before moving onto any definitive find and repair any injuries that are found. Due to the time sensitive nature, this procedure also emphasizes expedience in terms of gaining access and controlling the bleeding, thus favoring a long midline incision. Intra-abdominal injuries are also frequently successfully treated non-operatively as there is little benefit shown if there is no known active bleeding or potentials for infection. The use of CT scanning allows care providers to use less surgery because they can identify injuries that can be managed conservatively and rule out other injuries that would need surgery. Depending on the injuries, a person may or may not need intensive care.
WHAT ARE THE PROGNOSIS?
If abdominal injury is not diagnosed promptly, a worse outcome is associated. Delayed treatment is associated with an especially high morbidity and mortality if perforation of the gastrointestinal tract is involved.
EPIDEMIOLOGY
In the United Kingdom, abdominal trauma due to road traffic accidents and assaults are most common.
Most deaths resulting from abdominal trauma are preventable, abdominal trauma is one of the most common causes of preventable, trauma-related deaths.
FOR FURTHER ENQUIRES OR MANAGEMENT, KINDLY REACH US VIA OUR CONTACT PAGE.