OVERVIEW
Hemorrhoids, or piles, are a common issue. These swollen veins inside of your rectum or outside of your anus can cause pain, anal itching and rectal bleeding. Symptoms often improve with at-home treatments, but on occasion, people need medical procedures. Eating more fiber can help prevent hemorrhoids.
WHAT ARE HEMORRHOIDS?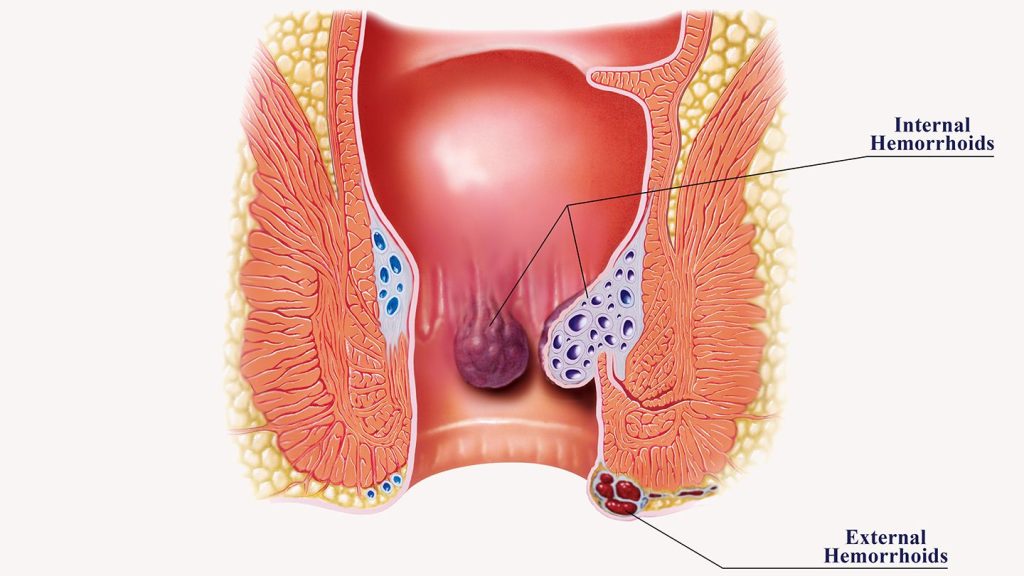 Hemorrhoids are swollen, enlarged veins that form inside and outside of your anus and rectum. They can be painful and uncomfortable and cause rectal bleeding. Hemorrhoids are also called piles. We're all born with hemorrhoids, but at baseline, they don't bother us. It's only when they become swollen and enlarged that they produce irritating symptoms.
WHAT ARE THE TYPES OF HEMORROIDS?
Hemorrhoids can happen inside or outside of your rectum. The type depends on where the swollen vein develops. Types include:
External: Swollen veins form underneath the skin around your anus. Your anus is the canal where your poop comes out. External hemorrhoids can be itchy and painful. Occasionally, they bleed. Sometimes, they fill with blood that can clot. This isn't dangerous, but can result in pain and swelling.
Internal: Swollen veins form inside your rectum. Your rectum is the part of your digestive system that connects your colon (large intestine) to your anus. Internal hemorrhoids may bleed, but they usually aren't painful.
Prolapsed: Both internal and external hemorrhoids can prolapse, meaning they stretch and bulge outside of your anus. These hemorrhoids may bleed or cause pain.
WHAT ARE SIGNS AND SYMPTOMS OF HEMORRHOIDS?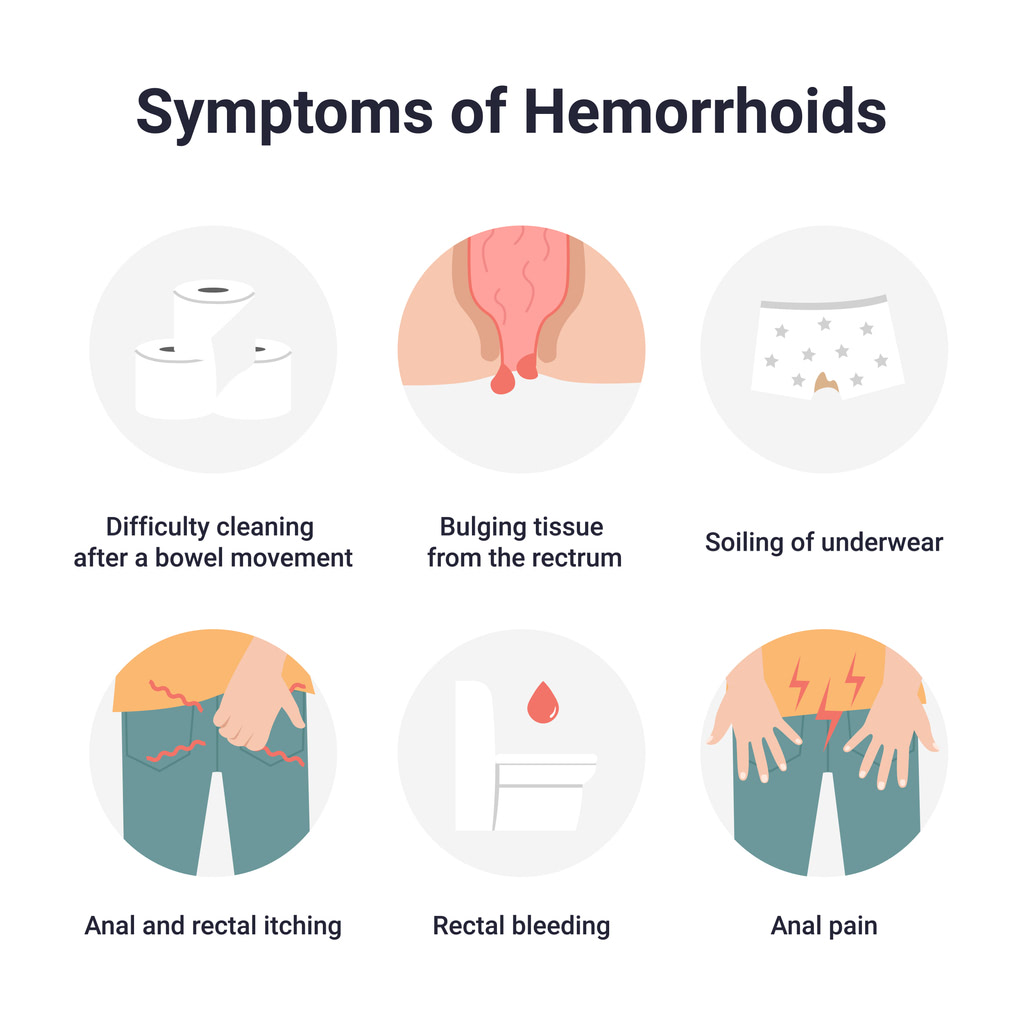 Signs and symptoms of hemorrhoids usually depend on the type of hemorrhoid.
External hemorrhoids
These are under the skin around your anus. Signs and symptoms might include:
Itching or irritation in your anal region
Pain or discomfort
Swelling around your anus
Bleeding
Internal hemorrhoids
Internal hemorrhoids lie inside the rectum. You usually can't see or feel them, and they rarely cause discomfort. But straining or irritation when passing stool can cause:
Painless bleeding during bowel movements. You might notice small amounts of bright red blood on your toilet tissue or in the toilet.
A hemorrhoid to push through the anal opening (prolapsed or protruding hemorrhoid), resulting in pain and irritation.
Thrombosed hemorrhoids
If blood pools in an external hemorrhoid and forms a clot (thrombus), it can result in:
Severe pain
Swelling
Inflammation
A hard lump near your anus
WHAT ARE THE CAUSES OF HEMORRHOIDS?
The veins around your anus tend to stretch under pressure and may bulge or swell. Hemorrhoids can develop from increased pressure in the lower rectum due to:
Straining during bowel movements
Sitting for long periods of time on the toilet
Having chronic diarrhea or constipation
Being obese
Being pregnant
Having anal intercourse
Eating a low-fiber diet
Regular heavy lifting.
WHO ARE THE RISK FACTORS?
As you age, your risk of hemorrhoids increases. That's because the tissues that support the veins in your rectum and anus can weaken and stretch. This can also happen when you're pregnant, because the baby's weight puts pressure on the anal region.
HOW DO WE DIAGNOSE HEMORRHOIDS IN OUR FACILITY?
We diagnoses hemorrhoids based on symptoms and a physical exam. You may also have:
Digital rectal exam: We will inserts a gloved, lubricated finger into your rectum to feel for swollen veins.
Anoscopy: We might use an anoscope (lighted tube) to view the lining of your anus and rectum.
Sigmoidoscopy: We will use a sigmoidoscope (lighted tube with a camera) to view inside the lower (sigmoid) part of your colon and rectum. Procedure types include flexible sigmoidoscopy and rigid sigmoidoscopy (proctoscopy).
These tests may be uncomfortable but aren't painful. They typically take place in a doctor's office or outpatient center without anesthesia. You go home the same day.
We may perform a colonoscopy to confirm findings from other tests or check for signs of colon cancer. This outpatient procedure requires anesthesia.
WHAT ARE THE TREATMENT OPTIONS FOR HEMORRHOIDS?
In most cases, simple measures will alleviate symptoms while hemorrhoids heal on their own. However, medication or surgery may be necessary in certain cases.
Home treatments
The following home treatments may help relieve symptoms of hemorrhoids:
Topical creams and ointments: Over-the-counter (OTC) creams for external hemorrhoids can help reduce itching, discomfort, and swelling.
Fiber supplements: Taking supplements like methylcellulose (Citrucel) and psyllium (Metamucil) can reduce constipation and help with hemorrhoids.
Ice packs and cold compresses: Applying these to the affected area may help ease pain.
A sitz bath: A sitz bath involves sitting in a tub of shallow, warm water. Taking one a few times each day may help reduce hemorrhoid pain.
Analgesics: Painkillers such as aspirin, ibuprofen, and acetaminophen may help alleviate pain from hemorrhoids.
Medications
Hemorrhoid medications come in various forms, including suppositories, ointments, and pads. A person can usually buy them over the counter.
Several common medications include:
A person should talk with a doctor if symptoms do not improve after using these medications for a week.
Surgical options
Surgery may involve the complete removal of external hemorrhoids or prolapsed internal hemorrhoids. This procedure is known as a hemorrhoidectomy.
Alternatively, a doctor or surgeon may staple a prolapsed hemorrhoid back into place in the anus.
During these procedures, a patient will receive general anesthesia. Most people can go home on the same day as the surgery.
WHAT ARE THE PREVENTIONS?
Lifestyle changes can help lower the risk of hemorrhoids. These include:
Eating a healthy diet: Eating plenty of foods rich in fiber, such as fruits, vegetables, and whole grains, can help keep stools soft. Taking OTC fiber supplements and staying hydrated can also ease constipation.
Avoiding straining: A person should try not to strain when using the toilet. Straining puts pressure on the veins in the lower rectum.
Going to the bathroom when needed: It is best to avoid waiting to use the toilet. The longer a person waits, the drier the stools will be.
Getting regular physical activity: Exercise helps stool move through the bowel, making bowel movements more regular.
Maintaining a moderate body weight: Being overweight raises the risk of having hemorrhoids.
WHAT ARE THE OUTKLOOKS?
Hemorrhoid symptoms often resolve on their own with conservative treatment, although there is a 10–50%Trusted Source chance they will return. The chance of hemorrhoids returning after surgery is less than 5%Trusted Source.
Complications can sometimes occur, such as:
Bleeding: Anyone with persistent or heavy bleeding, with or without pain, should seek immediate medical help.
Strangulated hemorrhoid: Muscles around the anus may block the blood supply to a prolapsed hemorrhoid. This can cause significant pain.
Anemia: Significant, chronic blood loss from hemorrhoids can lead to anemia. This occurs when there are not enough red blood cells circulating in the body.
Blood clots: Blood will sometimes clot within a hemorrhoid. If the hemorrhoid is external, this can be very painful. A surgeon may need to remove the blood clot.
Infection: Ulceration and infection can occur after treatment.
Urinary retention: Around 15%Trusted Source of people have difficulty passing urine after surgery on internal hemorrhoids. After surgery for external hemorrhoids, urinary retention will affect 30–50%Trusted Source of people.
FOR CONSULTATION AND MANAGEMENT, KINDLY REACH OUT TO US VIA OUR CONTACT PAGE.