A TYPICAL IMAGE OF A YOUNG BOY WITH HYDROCELE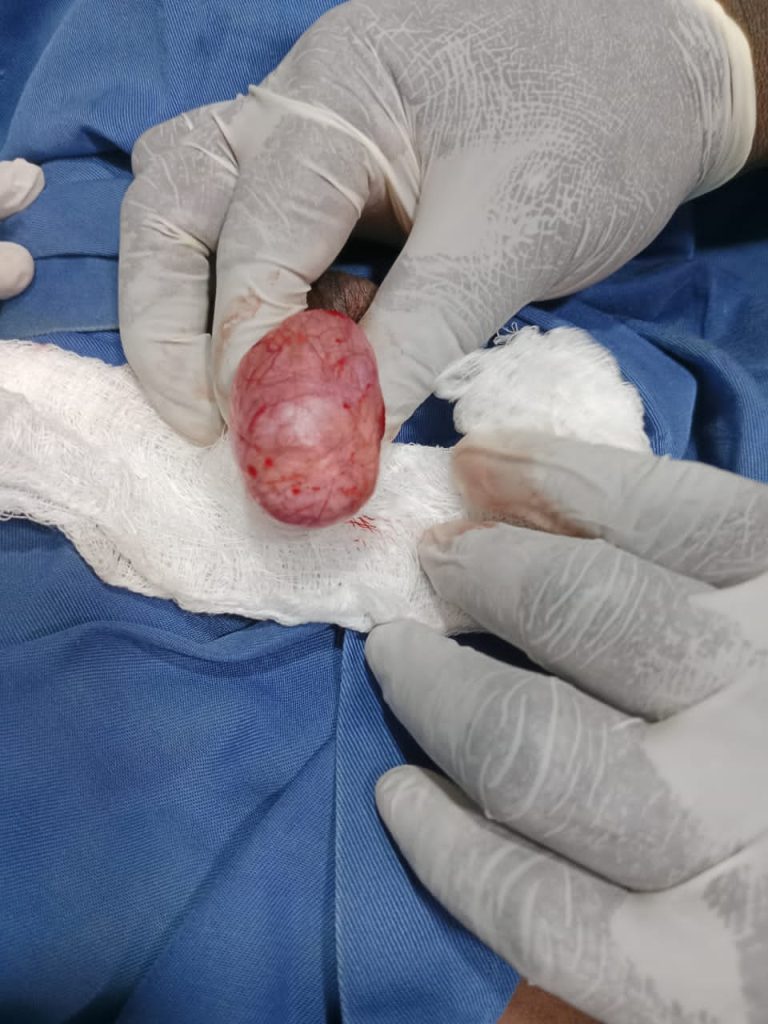 WHAT IS A HYDROCELE?
A hydrocele is when fluid fills a male's scrotum, causing it to swell. This swelling happens when fluid fills the thin sac that surrounds a testicle. Hydroceles are common in newborns. They often go away without treatment by age 1. Older children and adults can get a hydrocele due to an injury within the scrotum or other health problems. Hydrocele is not a major health issue but it can be embarrassing and uncomfortable.
NORMAL SCROTAL ANATOMY (LEFT)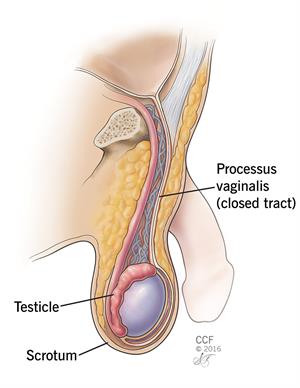 SCROTAL ANATOMY WITH HYDROCELE (RIGHT)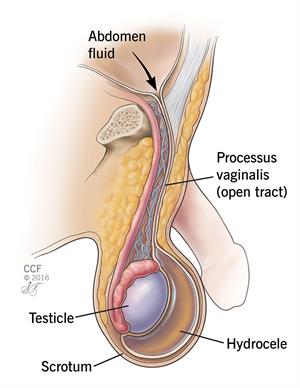 WHAT ARE THE TYPES OF HYDROCELE?
Although hydroceles tend to be fairly harmless in most patients, the condition can present differently depending on how it develops in the body. The two most common forms are known as non-communicating and communicating hydroceles.
Non-communicating hydroceles occur when the sac closes, but your body doesn't absorb the fluid. The remaining fluid is typically absorbed into the body within a year.
Communicating hydroceles occur when the sac surrounding your testicle doesn't close all the way. This allows fluid to flow in and out.
Nuck's hydroceles are a rare type, found in people without testicles, that can occur in the lining of the pelvic wall and can cause painful swelling in the lymph nodes of the groin. This can be mistaken for ovarian cysts, endometriosis, and a host of other conditions, making diagnosis and treatment difficult.
WHAT ARE THE SYMPTOMS OF HYDROCELE?
Often the only sign of a hydrocele is a painless swelling of one or both testicles.
The swelling might make an adult's scrotum feel heavy. In general, pain gets worse as the swelling increases. Sometimes, the swollen area might be smaller in the morning and larger later in the day.
When to see a doctor
See your health care provider if you or your child has swelling of the scrotum. It's important to find out if there are other causes of the swelling that could be treated. For example, a hydrocele might be linked with a weak point in the ab muscles that allows part of the intestine to extend into the scrotum. This problem is called inguinal hernia.
A baby's hydrocele often goes away on its own. But if your baby still has a hydrocele after a year or if the swelling gets worse, ask your child's health care provider to check the hydrocele again.
Get help right away if you or your child has sudden, terrible pain or swelling in the scrotum. It's extra important to get prompt treatment if the pain or swelling starts within a few hours of an injury to the scrotum. These symptoms can happen with certain health problems, including blocked blood flow in a twisted testicle. This problem is called testicular torsion. It needs to be treated within hours of the symptoms starting to save the testicle.
WHAT ARE THE CAUSES OF HYDROCELE?
Hydroceles can occur at any age, yet tend to be more common in newborns. While they can occur without any underlying causes, an underlying injury or even inflammation can also contribute to their development. For most people, hydroceles are nothing more than an inconvenient — yet temporary — condition.
Babies
A hydrocele can form before birth. Typically, the testicles descend from the developing baby's stomach area into the scrotum. A sac comes with each testicle, letting fluid surround the testicles. Most often, each sac closes and the fluid is absorbed.
Sometimes, the fluid stays after the sac closes. This is called a noncommunicating hydrocele. The fluid usually is absorbed by age 1 or 2. Other times, the sac stays open. This is called a communicating hydrocele. The sac can change size, or fluid can flow back into the stomach area. Communicating hydroceles are often linked with inguinal hernia.
Older people
A hydrocele can form due to an injury. Or it can form because of a type of swelling, called inflammation, within the scrotum. Inflammation might be caused by an infection in the testicle or in the small, coiled tube at the back of each testicle.
WHAT ARE THE RISK FACTORS?
Most hydroceles are present at birth. At least 5% of newborn males have a hydrocele. Premature babies, who are born more than three weeks before their due dates, have a higher risk of having a hydrocele.
Risk factors for getting a hydrocele later in life include:
Injury or inflammation within the scrotum.
Infection, including a sexually transmitted infection.
WHAT ARE THE COMPLICATIONS?
A hydrocele often isn't dangerous and usually doesn't affect the ability to have a baby. But a hydrocele might be linked with a health problem that can cause serious issues. These problems include:
Infection or tumor. Either might cause the testicles to make less sperm or not work as well as usual.
Inguinal hernia. This can lead to life-threatening health problems.
HOW DO WE DIAGNOSE HYDROCELE IN OUR FACILITY?
To diagnose a hydrocele, we will perform a physical exam. If you have a hydrocele, your scrotum will be swollen, but you won't have any pain. We won't be able to feel your testicle well through the fluid-filled sac.
We may check for tenderness in the scrotum and shine a light through the scrotum. This is called transillumination. It allows us to determine if there's fluid in the scrotum. If fluid is present, the scrotum will allow light transmission, and the scrotum will appear to light up with the light passing through. However, if scrotal swelling is due to a solid mass (cancer), then the light will not shine through the scrotum. This test does not provide a definite diagnosis but can be very helpful.
We may also apply pressure to the abdomen to check for another condition called inguinal hernia; we may also ask you to cough or bear down to check for this. This can occur when part of the small intestine protrudes through the groin due to a weak point in the abdominal wall. While it's usually not life threatening, we may recommend surgery to repair it.
If there is significant, sustained scrotal swelling, we will likely order a scrotal ultrasound to help determine the cause.
We may take a blood or urine sample to test for infections. Less commonly, we may administer an ultrasound to check for hernias, tumors, or any other cause of scrotal swelling.
WHAT ARE THE TREATMENT OPTIONS IN OUR FACILITY?
In babies, a hydrocele sometimes goes away on its own. But at any age, it's important for a health care provider to check a hydrocele. That's because it can be linked to a problem with the testicles.
A hydrocele that doesn't go away on its own might need to be removed with surgery. Some people don't have to stay at the hospital overnight after surgery. Before the operation to remove a hydrocele, you receive medicine that keeps you from feeling pain. One type of medicine puts you in a sleep-like state, too.
To remove the hydrocele, a surgeon makes a cut in the scrotum or lower stomach area. Sometimes, a hydrocele is found during surgery to repair an inguinal hernia. In this case, the surgeon might remove the hydrocele even if it's causing no discomfort.
After surgery, you might need a tube to drain fluid and a bulky bandage for a few days. You may need a follow-up exam because a hydrocele might come back.
HOW CAN HYDROCELE BE PREVENTED?
There is nothing you can do to prevent your baby from getting a hydrocele. For adolescent and adult men, the best protection against a hydrocele is to keep the testicles and scrotum free of injury. For example, if taking part in contact sports, use an athletic cup.
Although hydroceles are usually not a major health issue, you should tell your healthcare provider about any abnormality or swelling in the scrotum. Another disease or condition may be causing or mimicking the abnormality.
SUMMARY
Hydroceles are very common in newborn males and usually disappear within a year.
The most common cause is fluid traveling from the abdomen and collecting in the tissue surrounding one or both testicles.
In adult males, swelling in the scrotum has many possible causes, including inflammation from infection or injury.
Most hydroceles, in both infants and adults, disappear without the need for medical intervention. In rare cases, doctors might need to perform surgery or aspiration to drain the fluid.
FOR CONSULTATION OR MANAGEMENT, KINDLY REACH US VIA OUR CONTACT PAGE