WHAT IS POST PARTUM PREECLAMPSIA?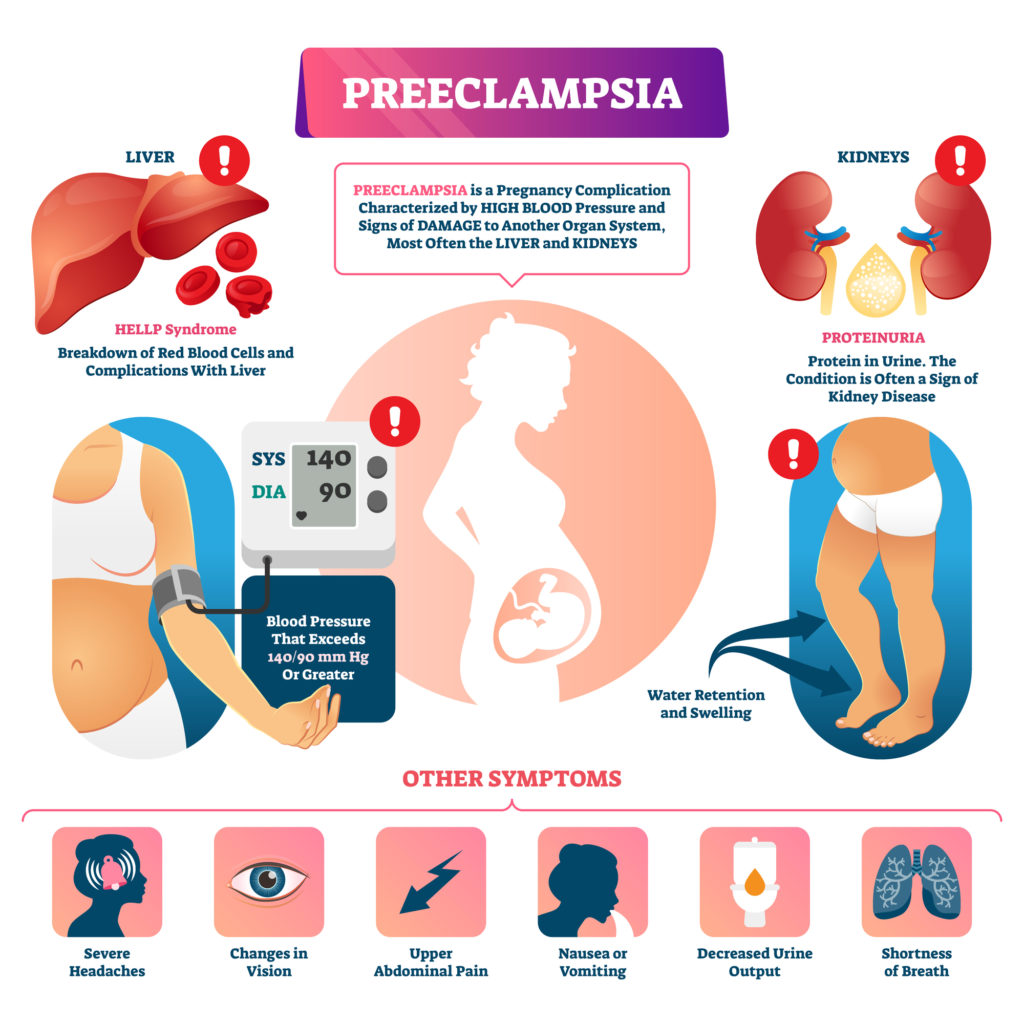 Postpartum preeclampsia is a rare but serious condition related to high blood pressure after you give birth. It's most common within 48 hours of delivery but can occur up to six weeks after your baby is born. Postpartum preeclampsia can lead to strokes, seizures and other complications if not promptly treated.
Postpartum preeclampsia is different than preeclampsia. Preeclampsia is a condition that occurs while you're pregnant. Postpartum preeclampsia only happens after your baby is born. Even people who have never had high blood pressure or preeclampsia can get postpartum preeclampsia.
WHEN DOES POST PARTUM PREECLAMPSIA START?
Most people develop symptoms of postpartum preeclampsia within 48 hours of childbirth. However, the condition can develop up to six weeks after delivery.
WHAT ARE THE SIGN AND SYMPTOMS OF POSTPARTUM PREECLAMPSIA?
There are several symptoms that people who have just given birth might experience if they have postpartum preeclampsia. These include:
High blood pressure (140/90 mmHg or higher).
High levels of protein in your urine (proteinuria).
Headache (often severe).
Changes in vision like blurred vision or light sensitivity.
Swelling of your face, hands, feet or limbs.
Nausea and vomiting.
Abdominal pain, usually near your ribs.
Decreased urination.
Rapid weight gain.
Shortness of breath.
WHAT CAUSES POSTPARTUM PREECLAMPSIA?
The exact cause is unknown. But it's advisable to share your medical history with your health provider, attend all prenatal and postnatal appointments and discuss any irregular symptoms you're having. This can help your health provider detect postpartum preeclampsia.
WHAT ARE THE RISK FACTORS FOR POSTPARTUM PREECLAMPSIA?
Limited research suggests that risk factors for postpartum preeclampsia might
include:
High blood pressure during your most recent pregnancy. You're at increased risk of postpartum preeclampsia if you developed high blood pressure after 20 weeks of pregnancy (gestational hypertension).
Obesity: The risk of postpartum preeclampsia is higher if you're obese.
Having multiples: Having twins, triplets or more increases your risk of preeclampsia.
Chronic high blood pressure: Having uncontrolled high blood pressure before pregnancy increases your risk of preeclampsia and postpartum preeclampsia.
Diabetes: Having type 1 or type 2 diabetes or gestational diabetes increases your risk of preeclampsia and postpartum preeclampsia
Being younger than 20.
Being older than 40.
HOW IS POSTPARTUM PREECLAMPSIA DIAGNOSED IN OUR FACILITY?
If we suspects you might have postpartum preeclampsia, we might perform the following tests:
Blood pressure check.
Blood tests to do a platelet count and check the function of your liver and kidneys.
Urinalysis to check your urine for protein.
Brain scan to look for possible brain damage if you have had a seizure.
WHAT ARE THE TREATMENT OPTIONS IN OUR FACILITY?
The following treatment are being prescribed to our patient with postpartum preeclampsia.
Blood pressure medicine to lower pressure levels.
Anti-seizure medicine, such as magnesium sulfate, to prevent seizures (one of the most common risks of postpartum preeclampsia).
Anticoagulant (blood thinner) medications to reduce the risk of blood clots.
If you're breastfeeding, it's generally considered safe to breastfeed while taking these medications.
WHAT ARE THE COMPLICATIONS OF POSTPARTUM PREECLAMPSIA?
Complications of postpartum preeclampsia include:
Postpartum eclampsia: Postpartum eclampsia is essentially postpartum preeclampsia plus seizures. Postpartum eclampsia can permanently damage vital organs, including your brain, eyes, liver and kidneys.
Pulmonary edema: This life-threatening lung condition occurs when excess fluid develops in the lungs.
Stroke: A stroke occurs when the blood supply to part of the brain is interrupted or severely reduced, depriving brain tissue of oxygen and food. A stroke is a medical emergency.
Thromboembolism: Thromboembolism is the blockage of a blood vessel by a blood clot that travels from another part of the body. This condition is also a medical emergency.
HELLP syndrome: HELLP syndrome — which stands for hemolysis (destruction of red blood cells), elevated liver enzymes and low platelet count — can rapidly become life-threatening. Symptoms of HELLP syndrome include nausea and vomiting, headache, and upper right abdominal pain. HELLP syndrome is particularly dangerous because it represents damage to several organ systems. On occasion, it may develop suddenly, even before high blood pressure is detected, or it may develop without any symptoms at all.
HOW LONG DOES POSTPARTUM PREECLAMPSIA START?
It could take several days to a few weeks for the medication to lower your blood pressure to a safe level. Once your blood pressure is manageable, you're less at risk for other complications.
WHT ARE THE PREVENTIONS?
Your doctor may:
Discuss the signs and symptoms of preeclampsia with you
Recommend taking baby aspirin (81 milligrams) to prevent preeclampsia during your next pregnancy
Encourage you to have an active lifestyle and to eat a healthy diet
WILL I GET PREECLAMPSIA AGAIN?
If you've had postpartum preeclampsia, you're at higher risk of developing it again. Your healthcare provider may want to monitor you more closely throughout a future pregnancy for signs of preeclampsia.