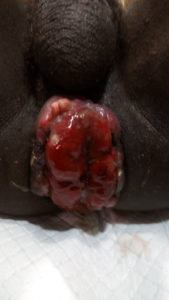 HEMORRHOIDS
1. WHAT ARE HEMORRHOIDS?
Hemorrhoids, also called piles, are swollen and inflamed veins in your anus and lower rectum. Hemorrhoids may result from straining during bowel movements or from the increased pressure on these veins during pregnancy, among other causes. Hemorrhoids may be located inside the rectum (internal hemorrhoids), or they may develop under the skin around the anus (external hemorrhoids).
Hemorrhoids are common ailments, by age 50 about half of adults have had to deal with the itching, discomfort and bleeding that can signal the presence of hemorrhoids.
2. WHAT ARE THE SYMPTOMS OF HEMORRHOIDS?
Sign and symptoms of hemorrhoids may include:
i. Painless bleeding during bowel movements
ii. Itching or irritation in your anal region.
iii. Pain or discomfort.
iv. Swelling around your anus.
v. A lump near your anus, which may sensitive or painful.
vi. Leakage of Faeces.
3. WHAT ARE THE TYPES OF HEMORRHOIDS?
Hemorrhoid symptoms usually depend on the location.
i. Internal hemorrhoids lies inside the rectum. You usually can't see or feel these hemorrhoids, and they usually don't cause discomfort. But straining or irritation when passing stool can damage a hemorrhoids delicate surface and cause it to bleed. Occasionally , straining can push an internal hemorrhoid the anal opening. This is a protruding and prolapsed hemorrhoid and can cause pain and irritation.
ii. External hemorrhoids are under the skin around your anus. When irritated, external hemorrhoids can itch or bleed. Sometimes blood may pool in an external hemorrhoid and firm a clot (Thrombus) resulting in severe pain, swelling and inflammation.
4. WHAT ARE THE CAUSES OF HEMORRHOIDS?
The veins around your anus tend to stretch under pressure and may bulge or swell. Swollen veins (hemorrhoids) can develop from an increase in pressure in the lower rectum. Factors that might cause increased pressured includes:
i. Straining during bowel movement
ii. Sitting for long periods of time on the toilet.
iii. Chronic diarrhea or constipation.
iv. Obesity.
v. Pregnancy.
vi. Anal intercourse.
vii. Low-fiber diet.
5. WHAT ARE THE COMPLICATION OF HEMORRHOIDS?
Complications of hemorrhoids are rare but include:
i. Anemia: chronic blood loss from hemorrhoids may cause anemia, in which you don't have enough healthy red blood cells to carry oxygen to your cells. This may results in fatigue and weakness
ii. Strangulated hemorrhoids: if blood supply to an internal hemorrhoid is cut off, the hemorrhoid may be "strangulated" which can cause extreme pain and lead to tissue death (GANGRENE).
6. HOW CAN WE DIAGNOSE HEMORRHOIDS?
Tests and procedures to diagnose internal hemorrhoids may include:
i. Examination of your anal canal and rectum for abnormalities. During a digital rectal exam, your doctor inserts a gloved, lubricated finger into your rectum. He or she feels for anything unusual, such as growths. The exam can give your doctor an indication of what further testing might be appropriate.
ii. Visual inspection of your anal canal and rectum. Because internal hemorrhoids are often too soft to b felt during a rectal examination, your doctor may also examine the lower portion of your colon and rectum with an anoscope, protoscope , or sigmoidoscope. These are scopes that allow your doctor to see into your anus and rectum.
7. SIMPLE HOME REMEDIES THAT RELIEVED HEMORRHOIDS
• Eat high-fiber foods.
• Drink plenty of fluids.
• Consider fiber supplement.
• Don't strain.
• Go as soon as you feel the urge.
• Exercise.
• Avoid long period of sitting
8. WHEN DO YOU NEED TO SEE US AT ADEBAYO LIVING TOWER HOSPITAL?
If you experiences some of the symptoms listed above, we can intervene through drug therapy or surgical intervention.
Your case is never too bad.