h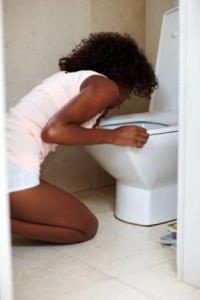 \
INTRODUCTION.
An overview of our antenatal records in ADEBAYO LIVING TOWER HOSPITAL (ANC) shows that one in every four patients complain of vomiting in pregnancy while one in every twelve (12) complain of severe vomiting during the last three (3) year's record with an extreme statistics of one in every forty five (45) patients seen in the last three (3) years experiencing blood in their vomitus with associated fainting attacks.
And overview of this statistics from the last three years makes hyperemesis gravidarum one of our antenatal topics for discussion for this year.
WHAT IS HYPEREMESIS GRAVIDARUM?
Hyperemesis gravidarum is a pregnancy complication that is characterized by severe nausea, vomiting, weight loss, and possible dehydration, signs & symptoms may also include vomiting several times a day and feeling faint.
WHAT ARE THE CAUSES OF HYPEREMESIS GRAVIDARUM?
Almost all women experience some degree of morning sickness during their pregnancy. Morning sickness is nausea and vomiting during pregnancy. Despite the name, confined to the morning and can occur at any time. Morning sickness and (HG) seem to have a connection to human chorionic gonadotropin (HCG). This is a hormone created during pregnancy by the placenta. Your body produces a large amount of this hormone at a rapid rate early in pregnancy. The American pregnancy Association states that HCG levels typically double every 48-72hours however; it is believed to be caused by a rapidly rising blood level of a hormone called chorionic gonadotropin (HCG)
HOW LONG DOES HYPEREMESIS GRAVIDARUM LAST FOR?
Hyperemesis gravidarum can last much longer than normal sickness which tends to settle down around 12-14wks of pregnancy. Hyperemesis gravidarum generally diminishes around 21weeks into the pregnancy but it may continue much longer.
WHAT ARE THE COMPLICATIONS OF HYPEREMESIS GRAVIDARUM?
Hyperemesis gravidarum may lead to the following symptoms and conditions:
Severe nausea and vomiting.
Dizziness, lightheadedness, and fainting.
Increased salivation.
Yellowing of the skin and eyes (jaundice).
Low blood pressure.
 DOES HYPEREMESIS GRAVIDARUM HAVE EFFECT ON MY BABY?
Hyperemesis gravidarum affects about 1 percent of pregnant women usually goes away during the second half of pregnancy, and typically does not cause serious complications in the mother or child according to the "National institutes of health"
HOW DO WE DIAGNOSE HYPEREMESIS GRAVIDARUM?
Our Doctor will ask about symptoms, medical history, and perform a thorough clinical evaluation, detailed patient history, to diagnose most cases doctor will look for common signs such as abnormally low blood pressure or a fast pulse. Diagnosis is clinical and by measurement of urine ketones, serum, electrolytes and renal function.
CAN HYPEREMESIS GRAVIDARUM AFFECT MY TWIN GESTATION?
Not all twin pregnancies are difficult; many women sail through their twin pregnancies with ease, many twin mamas have even more difficulties that affects not only them but also their babies. The cause of morning sickness may be due to the changes in the hormone levels. Statistically it is more common in multiple pregnancies (twins or more) hyper emesis gravidarum is estimated to affect 0.3-2.0% of pregnant women.
WHAT ARE THE PRESCRIBED MEDICATION FOR HYPEREMESIS GRAVIDARUM?
Management depends on clinical state of patients and facility been visited.