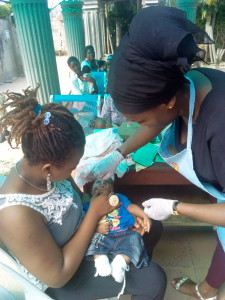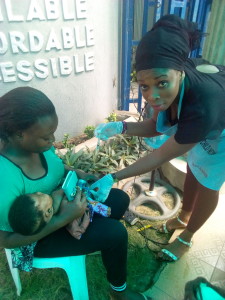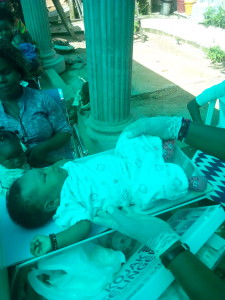 COMMONLY ASKED QUESTIONS DURING ANTENATAL LECTURES ON IMMUNIZATION BY MOTHERS IN BADAGRY?
INTRODUCTION TO IMMUNIZATION
According to the (WHO) world health organization, immunization began in the year 1956 when smallpox was severe and a major concern to health status in the nation; mostly the children. However immunization can be traced back to late 19's, though with no provable evidence it was practiced in late 18's and mid 19's. Immunization enjoys rapid sensitization or awareness from year 2000 when there was epidermiology or widespread of contagious diseases particularly among the under age such as chickenpox measles,poliomyelitis,diphtheria, with high rate of mortality. Interestingly, immunization has been embraced across the territory of Nigeria, though few core northern states (Zamfara,Taraba etc) are yet to fully key into the development. In 1967 the (WHO) launched a global eradication of smallpox program, mass vaccination of over 80%  of a country population ensued but peopole who were nomadic or lived politically livestyle. Smallpox vaccine was the first to be developed was introduced by Edward Jenner in 1796. He followed up his observation that milkmaids who had previously caught cowpox did not later catch smallpox. Evidence exist that the chinese employed smallpox inoculation ( or variolation, as such use of small pox material called Vacca, which is latin for cow. The procedure was much safer than variolation, and did not involve a risk of smallpox transmission. From these accounts, it is known that chinese banned the pracice of using smallpox material from patients who actually had the full blown diseases of variola major ( considered too dangerous ) ;instead they used proxy material of a cotton.
WHAT IS IMMUNIZATION?
Immunization is the introduction of antigens into the body to protect against infectious diseases like poliomyelitis,diphtheria, whooping cough, tuberculosis etc.
WHAT ARE THE ADVANTAGES OF IMMUNIZATION?
(1) The development of effective vaccines has led to a huge decrease in childhood death.
(2)  Immunization is a way of protecting against serious infectious diseases once indivdual have been immunized our bodies are better able to fight the diseases if we come in contact with them.
(3) Immunization prevent diseases like whooping cough,measles, and polio.
FROM WHAT AGE, AND TO WHAT AGE SHOULD MY CHILD BE IMMUNIZED?
A child should be immunized from birth to 5years of age. In 2017, a newly invented vaccine ws brought to nigeria from U.S.A by WHO) such vaccine should be given to a girl child from ages 9-13years (HPV) Human papiloma virus which prevents cervical cancer,vagina cancer, genital warts etc.
WHAT ARE THE LIKELY SIDE EFFECT WHICH I SHOULD HAVE IN MIND WHEN MY CHILD IS BEEN IMMUNIZED?
(1) Fever.
(2) Swollen of the injection site.
(3)Redness of the site.
WHY SHOULD MY 10YEARS OLD CHILD STILL BE IMMUNIZED?
A girl child from ages 9-13years should still be vaccinated with (HPV) Human papiloma Vaccine.
HOW DO I KNOW IF MY CHILD IS RECIEVING A GENUINE VACCINE?
Asking Questions from the health worker before, during, and after vaccine. which includes the following;
(1) What is the name of the vaccine.
(2) What disease is the vaccine preventing?
(3) How many times are we coming back?
(4) What is the batch number of the vaccine?
(5) What is the expiry date of the vaccine?
WHAT SHOULD I DO IF MY CHILD HAVE FEVER AFTER IMMUNIZATION?
Such a child should be taken back to the clinic, if it is an (AEFI) Adverse effect following immunization.
WHAT ARE THE LIKELY INFECTION THAT IMMUNIZATION CAN SAFE MY CHILD FOR?
(1) Pneumonia.
(2) Yellow Fever.
(3) Measles.
(4) Polio.
WHAT ARE THE EXAMPLE OF DISEASE(S) IN CHILDHOOD WHICH IMMUNIZATION HAS HELPED TO ERADICATE IN OUR SOCIETY?
(1) Smallpox.
IS THERE ANY VACCINE MEANT FOR ONLY GIRLS OR SEX SELECTION ?
YES ; Human papiloma virus.
CAN MY CHILD TAKE POLIO VACCINE AFTER ALREADY HAVING POLIO?
NO; Such a child should be taken to the (DSNO), Disease surveillance Notification Officer immediately for further management or observation if truly it"s polio.
.