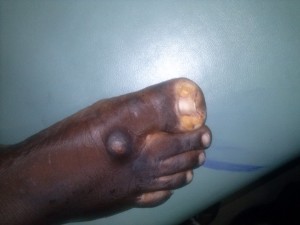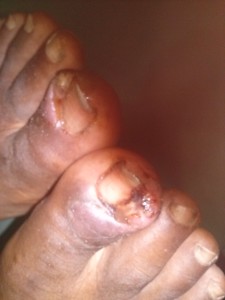 WHAT IS INGROWING TOENAIL.
Ingrowing toenail are condition whereby the side or corner of a toenails grow into the soft flesh. The results is pain, redness , swelling and an infection in some cases. If you are diabetic or you have condition that causes poor flow of blood to your feet, you are at greater risk of complications of ingrown toenails and medical attention is needed.
WHAT HAPPENS WHEN HAVING INGROWN TOENAIL
Swelling of your toe around the nail.
Pain and tenderness in your toe along one or both sides of the nail.
Redness around your toenail
Infection of the tissue around your toenail.
WHAT BRINGS ABOUT INGROWN TOENAIL
Cutting your toenails too short or not straight across.
Injuring your toenail
Wearing of shoes that crowd your toenails.
Having unusually curved toenail.
TEST AND DIAGNOSIS
Let your doctor diagnose ingrown toenail based on your symptoms and physical examination of your nail and the surrounding skin.
HOW WILL CAN HELP YOU.
WE HELP YOU LIFTING THE NAIL.  For a slightly ingrown nail, we will carefully lift the ingrowing nail edge and place cotton, dental floss or splint under it.
WE HELP YOU PARTIALLY REMOVE THE NAIL. For a more severe ingrown toenail (Redness, pain and Pus), we may trim or remove the portion of the nail.
WE HELP IN REMOVING THE NAIL AND TISSUE. If the problem still repeat or happen again on the same toe, we may suggest removing a portion of the nail along with the underlying tissue. This procedure may prevent that part of your nail from growing back.